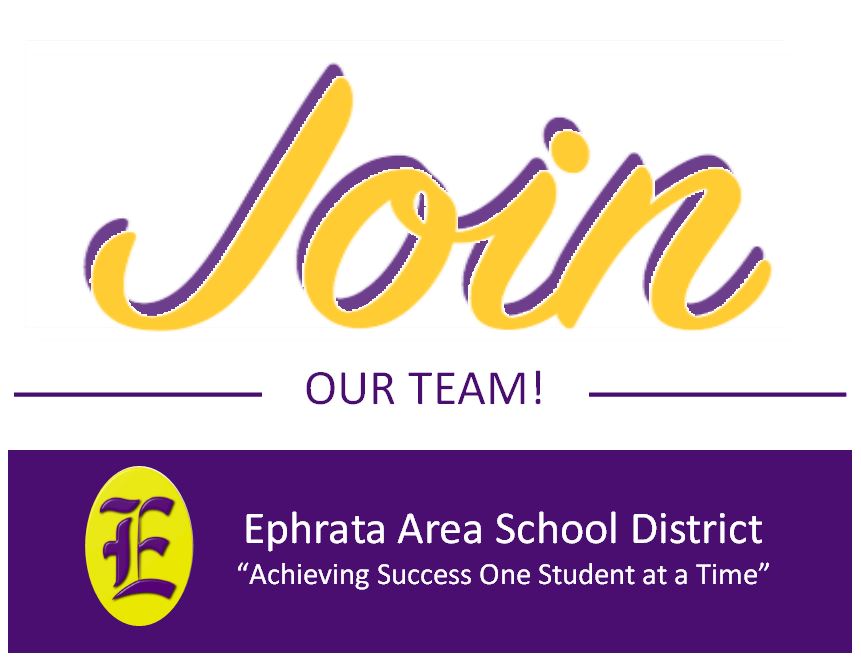 Are you motivated to create brighter futures for students, families, and the entire community? If so, we want you on our Team! At the Ephrata Area School District, we pride ourselves on the creativity, dedication, and collaborative spirit that our employees bring to their work every day, and we know that achieving success together takes a team approach!
We strive to hire exceptional, diverse, and passionate individuals who help us achieve our mission, vision, and beliefs.
If you are looking for an exciting, challenging opportunity to grow your career? Don't wait; apply today!
All EASD employment openings are posted, and applications are accepted online through AppliTrack, the EASD online job posting and application system.
Please view our current openings by clicking on the Employment Opportunities link above.
For questions regarding position qualifications or application procedures, please contact EASD Human Resources.
Welcome to the Office of Human Resources
The Office of Human Resources is a service department that supports and enhances the district's mission to excellence in education and the development of responsible and productive citizens. The office is dedicated to recruiting, hiring, developing and retaining a diverse, skilled and high-performing workforce in support of the District's mission and goals. We are responsible for all aspects of personnel relations from the time of hire through to retirement or resignation. This includes overseeing the staff recruitment and onboarding process including orientation into the EASD family.
We are committed to provide our employees a stable work environment with equal opportunity for learning and personal growth.
The Human Resources Department reports to the Assistant Superintendent and has responsibility for:
Attendance and Compensation Administration to include managing leaves of absence

Benefit Plan Administration to include: Employee Assistance Program, Flexible Spending Account Program, Healthcare to include COBRA administration, Life Insurance, Long-term Disability, Retirement as it relates to purchase of service and waiving membership, Tuition Reimbursement program, Unemployment Compensation, Workers Compensation

Complying with labor and employment laws to include serving as the Compliance Office for federal, state and civil rights legislation

Required compliance reporting to the Pennsylvania Department of Education

Tuition Reimbursement administration

Employee relations to include investigations and discipline

New Hire Orientation Program to include the delivery of mandated training sessions

Performance Evaluation to include providing guidance relative to performance improvement plans

Policy and procedure development and administration

Professional Certification to include: Review and monitor credentials, TIMS application management, Tenure status

Recruitment and Selection efforts

Assist in administration of collective bargaining and other employment agreements
As of April 1, 2007, Act 114 of 2006 has required that ALL prospective employees of public and private schools, including their independent contractors and their employees, but excluding employees who do not have direct contact with students, undergo background checks. Applicants are required to submit their background check reports to their prospective public and private school employers. The law also requires student teachers to undergo background checks and present their reports to their higher education institution prior to field experience. The three required background checks can be found using the Clearance Link.
PA Criminal History Record Check
The Background Check requires a $22.00 payment in the form of a credit card, certified check or money order made payable to the Commonwealth of PA.
PA Child Abuse History Certification
Application for the Child Abuse Clearance can be made through electronic submission or paper submission. The Child Abuse Clearance requires a $13.00 payment in the form of a credit card, certified check or money order dependent upon submission method.
Federal FBI Criminal History Clearance
Federal Criminal History Background Checks required by Act 114 of 2006, 24 PS 1-111 as amended (Act 61 of 2008)
Student teachers (participating in classroom teaching, internships, clinical or field experience),

Prospective employees of public and private schools, Intermediate Units and Area Vocational-Technical Schools (including, but not limited to: administrators, teachers, substitutes, custodians, cafeteria workers and office employees), and

Independent contractors and their employees (including, but not limited to: bus drivers, PIAA Sports Officials, and construction workers).
The FBI Clearance requires a $25.25 payment depending on submission method.
Appointments may be scheduled for fingerprinting services, or applicant may use the walk-in service.
Prospective employees/student teacher candidates/contractors and their employees, hereafter referred to collectively as applicant, are to submit with their employment application State and Federal criminal history reports (for the Federal Criminal History Report the applicant is to submit their Universal Enrollment ID (UEID) or a copy of the completed form/request. Criminal history reports (results of background checks) shall be no more than one year old at the time of hire.
Commonwealth of Pennsylvania Sexual Misconduct/Abuse Disclosure Release (Act 168)amends the act of March 10, 1949 (P.L. 30, No.14), known as the "Public School Code of 1949," to provide direction regarding employment history review processes and for monitoring of electronic public safety and criminal justice information related to educators. As of December 22, 2014, a school entity or an independent contractor (collectively referred to herein as "hiring entity") may not hire any applicant for a position in which the employee will have direct contact with children until the school entity has complied with the employment history review process delineated in Act 168. (24 P.S. § 1-111.1). Under Act 168, in addition to satisfying pre-existing employment requirements under the Public School Code of 1949 and 23 Pa.C.S. §§ 6354-58 (the Child Protective Services Law), a hiring entity must require an applicant for any position in which there is a possibility of direct contact with children to complete Section 1 of the Commonwealth of Pennsylvania Sexual Misconduct/Abuse Disclosure Release form for all employers that fall within the following categories:
(1). The applicant's current employer (regardless of whether the employer was a school entity and/or where the applicant had direct contact with children);
(2). All former employers of the applicant that were school entities; and
(3). All former employers where the applicant was employed in a position where he or she had direct contact with children.
Note that the applicant must fill out a separate Sexual Misconduct/Abuse Disclosure Release form for each employer that falls within the above-listed categories. The applicant is not required, however, under Act 168 to disclose current or previous volunteer positions. The applicant must also consent to the current/former employer's disclosure of any information regarding abuse and/or sexual misconduct. Under Act 168, the hiring entity is prohibited from hiring an applicant for a position involving direct contact with children unless the applicant provides the required information on the form and consent.
HIGHMARK GROUP INFORMATION
"The link below is published in accordance with the Consolidated Appropriations Act (CAA) Transparency in Coverage Rule, requiring publication of machine-readable files. The files are being hosted by our medical benefit administrator, and can be accessed at the link included below."
Highmark machine-readable files (MRFs) can be opened in Notepad or the Browser.
Highmark groups: https://mrfdata.hmhs.com/
BECOME A SUBSTITUTE / GUEST TEACHER
The Ephrata Area School District, through The Substitute Teacher Service, is always hiring Substitute Teachers and Support Staff positions. If interested, click on Apply Here, to take you to the STS website.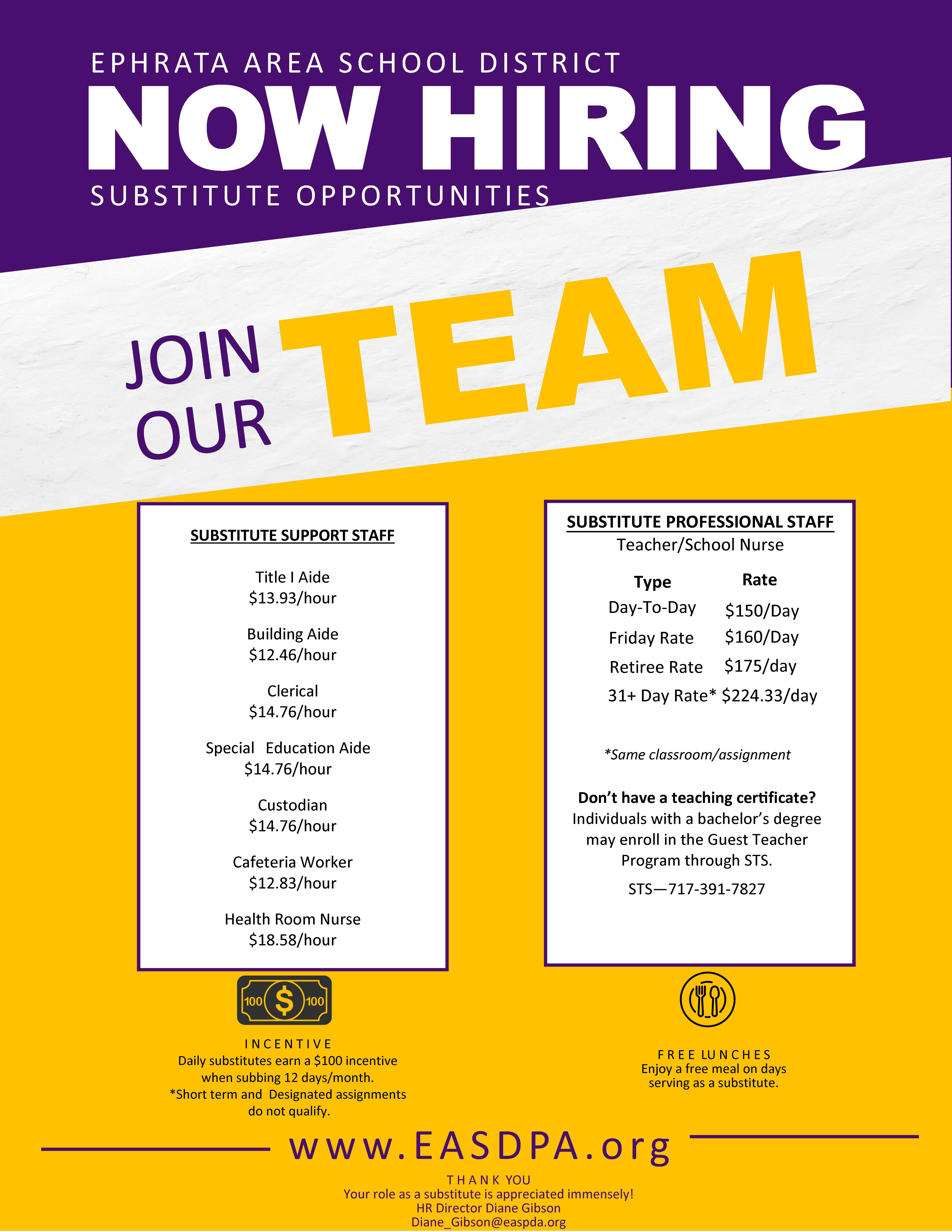 The Ephrata Area School District will not discriminate in employment, education programs, or activities based on race, sex, handicap, or national origin. This policy of non discrimination extends to all other legally protected classifications in accordance with state and federal laws including Title IX of the Education Amendments of 1972 and Section 503 and 504 of the Rehabilitation Act of 1973. Inquiries should be directed to Diane Gibson, Director of Human Resources, Ephrata Area School District, 803 Oak Boulevard, Ephrata, PA 19522.
Monday - Friday
7:30am - 4:00pm
Diane A. Gibson
Director of Human Resources
803 Oak Boulevard
Ephrata, PA 17522
Phone: 717-721-1513
Fax: 717-721-1530
diane_gibson@easdpa.org
Jill Miller
Human Resources Admin. Assistant
803 Oak Boulevard
Ephrata, PA 17522
Phone: 717-721-1513
Fax: 717-721-1530
jill_miller@easdpa.org